As an aerialist and thrill seeker, it's no surprise that my time skydiving is some of the most fun I've ever had in my life. I won't say it wasn't a little bit scary – I mean I was falling out of a plane at 120mph! – but it was an absolute joy and an experience I would HIGHLY recommend to anyone who might be interested.
If you're thinking about taking the leap (out of a plane), here are the things you should think about ahead of time:
Research your location
Take a few minutes to read the reviews of previous jumpers, especially first timers. You'll also want to double check that their compliance and certifications are 100% clean.

Eat something, and pack some bites for the journey
Do yourself a favor and arrive at the dropzone having nourished yourself – and take a few snacks along with you, there could be a wait. Too hungry or too full are bad ways to jump.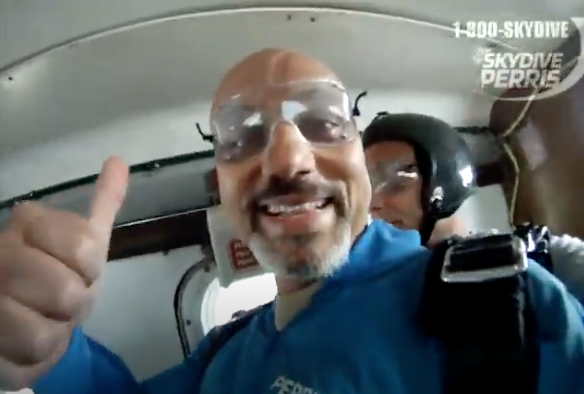 Get a good night's rest
Some people get nervous before they skydive, especially their first time. This is a very normal phenomenon. Allow yourself the headspace to relax the night before so that your big day goes off without a hitch!

Dress for success
The best way to approach a skydive is to dress in close-fitting layers. If you're offered a jumpsuit (you may not be), treat that as a solid favor – it'll keep the fabric of your clothing intact (the wind can tear the clothes right off of you in midair!)
Establish expectations
Ask the dropzone for a timeline of your experience, from when you arrive to when you land from your jump. It'll help you relax to know what's coming next and how to handle any small changes in plans.

Buy the photos and the digital recording
You'll cherish these memories forever, but take it from me, these are mementoes that you'll be happy to have.

Have fun, and breath
Breathe, deeply and often, from the moment you land at the dropzone all the way to your wildly raucous landing.